What is a blog?
Have you ever wondered what the meaning of blog is? A blog is a shortening of the word "weblog". It's a platform where different kinds of information is shared ranging from personal, business, entertainment to news between a blogger (a person who owns and runs a blog) and his audience. The information is usually written in chronological order. It starts with recent posts.
A step by step guide on how to start a profitable and successful blog faster and easily in a week.
Start your blog this week by:
Choosing a blog niche
Getting a domain name
Getting hosting
Designing your blog with a suitable word press theme
Customizing it to meet your preference
Writing your first blog post
Choosing a blog niche
A niche is simply a topic or subject that you blog about. Before choosing a niche, it's important that you ask yourself why you intend to start a blog. Will you be blogging your passion? Do you want to be making passive income from the blog? Answering the questions inwardly correctly is part of starting a profitable blog.
If you be blogging what you are passionate about, then you will be blogging about anything you enjoy doing. However, if you want to be making passive income from your blog, then choose a profitable blog niche. Passive income is simply the money you make while you are sleeping because of an effort that was made in the past though not actively involved now.
Profitable Blog niches
There are tons of profitable blog niches to choose from. Some of the profitable blog niches are:
Lifestyle niche. This is a niche that focuses on daily life of an individual or a group of individuals. Share with others lifestyle information that is life touching which can shape their lives. This can be health related information or something else that is life touching. You have the potential to generate passive income from this niche. This is through ads and product reviews.
News niche. It's to do with news related information. For example, the news can be about politics. This niche is used to generate passive income by bloggers. It is generated through ads. Offer advertising space on your blog.
Business niche. It shares information that is related to news. This niche also generates income. The blogger running the blog can generate passive income by being sponsored as a brand ambassador and through ads.
Entertainment niche. This is a blog niche which will help you generate passive income if you be providing content which entertainment in nature. For example, reviewing entertainment related products, comedy, TV shows and ads that are will be placed on your web site.
Food niche. This niche focuses on information related to food. If you are passionate about cooking, then it's a best blog niche for you. Share with others cooking tips and discovering new foods. Money is earned by reviewing products and ads.
Factors to consider when choosing a niche.
If you want to start a profitable blog that will generate passive income, choose a blog niche from the pool of profitable niches. If you can't make a decision, then do a self analysis to help you choose a niche. Basically, there are two important things that will guide you to choose a good, successful and profitable niche for your blog.
If you are caught in a dilemma, you can choose a niche by doing the following two things:
Think of something that you are passionate about or enjoy doing.
Think of something that you are good at doing.
These points will guide you to choose a niche that will set you up for success. After having done this, look at the list of profitable blog niches to choose a perfect blog that will suit your preferences and strength.
Getting a domain name and hosting
The success of a blog is partly determined by a domain name and hosting. So the next thing you will need to do is to get a domain name. A domain name is the address of your website. Simply put, it is the URL the users of the internet write in the browser to search for you on the internet. For example, google.com. Take note that there are many domain name extensions. Domain name extensions refer to .org or .com. However, the best domain name extension for your blog website is the common .com.
Factors to consider when choosing a domain name.
name should easier to remember.
name should not have hyphens or numbers. Hyphens or makes numbers make it difficult to remember.
name should focus on your topic. It should be related to what you blog about.
The next thing you will need is a hosting account. Website hosts are companies that house and maintain files for tons of websites. A website hosting company can be likened to a shopping mall that has space for countless stores. Website hosting companies let you lease space on their special computers known as web servers where you can store your website files and pictures which make them available for your visitors to view. Most companies provide both domain name registration and hosting. Remember, without a hosting account, there won't be a website.
Remember, without a domain name, your website visitors won't have a memorable way to get to your website. So you need to have it and it should chosen carefully. There are free and paid domain names.
Where to get free hosting free hosting.
There are so many types domain name registrars and hosting companies. Some companies offer both domain name registration and hosting. Some of the best websites where you can create free blogs are:
Blogger. It's a blog publishing service that allows multi-user blogs. But it's now owned by Google. The blogs are hosted by Google. its one of the websites where you can start a blog at no cost.
SimpleSite. Just as it's name suggests, it is one of the website where you can create a free website blog easily and faster.
Wix. It is a free website that can be managed from the front-end. The significant feature of this platform is that it comes with drag-and-drop options, so you don't have to handle anything in the back-end. The design can be used by beginners.
So you can create a free website blog and publish it on the internet at no cost. However, free domain names have disadvantages. Some of their disadvantages are that:
they only last for a year. Most free registrars and hosting companies offer the service only for a year. Renewal requires choosing one of their paid plans.
It's difficult for people to locate you on the internet. The services make it difficult for people to find you on the internet.
You will have a long domain name that may not easily define your business. The domain names given don't usually look pretty. For example, simplesite will give you the domain name: www.yourdomainsimplesite.com. This might not reflect your topic or what your blog is about clearly.
Where to get paid hosting.
If you want to start a blog that will generate income, then investing in a domain name will be worth it. There are so many paid domain name registrars as well as hosting companies. Buying a domain is easy. simply type the domain name you want into the domain search tool. Or, search for the domain in Whois Lookup. When you find the one you like, then buy it.
Factors to consider when getting hosting:
pricing. The plans should be affordable.
features. It should have good features such speed.
customer support. It should have 27/7 customer support.
The best Domain name registrars and hosting companies include:
Bluehost. It offers domain name registration and hosting to make it easy to manage your email, website, and domains— all in one place. You can register new domain names and transfer domains you already own right inside your Bluehost account.
Namecheap. It's a leading domain registrar, offers you a wide variety of domains. Register or transfer your domain name in a snap.The best platform to host WordPress by EasyWP. Setup your WordPress site in 30 seconds and from just $1 for the first month.
Dreamhost. It is one of best web hosting company. It has more than 400,000 active customers and a hosting roster of over 1.5 million websites.
Designing your WordPress website.
WordPress is the simplest, most popular way to create your own website or blog. Its important that you choose word press. There are two wordpress namely wordpress.com and wordpress.org. wordpress.com is free while wordpress.org has paid plans.
The one which is recommended is wordpress.org. It powers over 30% of the websites you see on the internet. To give your website an appealing look, you will be required to use a theme. Themes are simply templates and sheets that are used to style and define the appearance and the display of a WordPress powered website. WordPress has tons of free themes. They make it possible to display media, layouts, images, and design elements to your browser. Choosing the right theme is important for your website. Others are paid. However, you can accomplish a great deal with the free themes.
How a theme is installed.
First and foremost, login to your WordPress admin area. Next, click on Appearance » Themes.
Next,click on the Add New button at the top.
On the next screen, you will have the ability to select from a variety of WordPress themes. Choose a theme with features you are looking for.
When you find the theme that you want to install, simply bring your mouse on top of the image. This will reveal the install button, preview button, and details button. Go ahead and click on the install button.WordPress will now install your theme and show you a success message along with the link to activate or live preview.Click on the activate button, and you've successfully installed and activated your WordPress theme.
After installation, the theme will look like the ones below.
Venture.
This is a free theme suitable for a business. You be able to to set up a front store with pricing options, a blog, custom menu options and profile pages.
Breviter.
It's suitable for a personal blog. You will be able to tell your story to the world with a clean and a full picture theme. There are themes that are suitable for each blog topic.
Customizing your blog
Now look for the plugin by typing the plugin name in the search bar. After that, you will see a number of listings like the example below: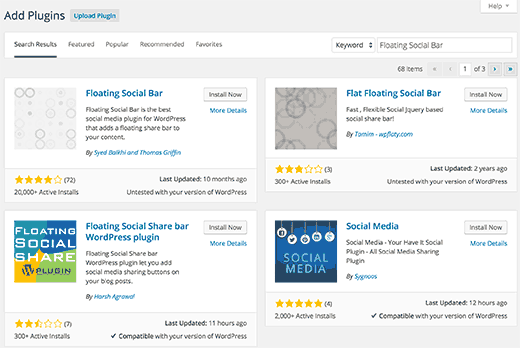 Choose the plugin that is best for you. Once you find it, click 'Install Now' button. A WordPress plugin can be installed on your site, but it will not work unless you activate it. So go ahead and click on the activate plugin link to activate the plugin on your WordPress site. That's all, you have successfully installed your first WordPress plugin.The next step is to configure the plugin settings.
Creating your first blog post.
How a blog post is created.
Go to your WordPress administration screen area(Dashboard) and click on Add New.
Start filling in the blanks: enter your post title in the upper field, and enter your post body content in the main post editing box below it. As needed, select a category, add tags, and make other selections from the sections below the post. (Each of these sections is explained below
Once you finish, click the publish button on the right and your first blog will be seen by all people in the world.
If you want to start a blog which will generate passive income, then get a paid domain name and hosting.  Choose your domain name carefully. A domain name and hosting are important. Without a domain name, your website visitors won't have a memorable way to get to your website. And without a hosting account, there won't be a website to go to.